Awning windows let the air – not the rain – into the room. They open up and out to create a graceful awning-like appearance. Awning windows are hinged at the top and open outward. Screens are placed on the interior of the window unit. Similar to casements, the entire window area can be opened, while sliders are limited to less than half of the window area.
Awning Windows open up and out to create a graceful awning-like appearance. Create an elegant interior and exterior design for your home with easy-to-operate awning windows. An awning window is hinged at the top of the window which can be an advantage to you. This type of window can be left open when it is raining, within reason, for added ventilation with little risk of rain entering your home. An awning window tends to draw out more air than it draws in. This makes it a good choice to combine with other windows.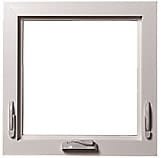 Since 1985 North Star has been an industry leader in the manufacture of attractive and energy-efficient vinyl windows and patio doors.
Tested and certified by Canadian Standards Association and comply with American Architectural Manufacturers Association (AAMA) standards.
The beauty of our windows can be enhanced through traditional or contemporary grilles, available in three profiles: ¼″ square, ⅝″ flat and ¾″ contour.
Extrusions come in seven colors – white, ivory, hickory, chestnut brown, cocoa, sable and sandalwood
Energy Advantage Low-E is a high performance, energy-efficient glass made with a coating that is designed for top performance in our northern climate, which is why it can rate highest on the Canadian Energy Rating
Hardware and locks used in our windows are easy to use, secure and come with a lifetime warranty
If you need some window ideas, we've put together a gallery of window inspirations: